Flight School
Lower Silesia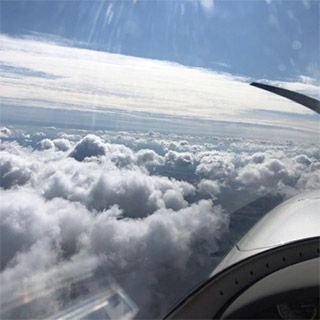 Flight training
Our dreams have finally come true. Here, in Lower Silesia, we have managed to establish a unique flight school like no other. With us you can begin your adventure with flying and, most of all, make your dreams come true. We understand people like you, as we ourselves are passionate about flying. We also know that passion is not enough. What is crucial are the skills and knowledge which will enable you to pursue your passion for flying, minimizing any potential risks. That's why we are here for you. We will safely guide you throughout the whole training process. Our offer includes: PPL(A), LAPL(A) and VFR Night training courses.
Flight training center
Already a licensed pilot? In our flying school you can extend validity of your license or rent one of our modern aircrafts. No matter if you are a novice for whom flying is a hobby or an expert pilot, you can be sure that we will do our best to meet your expectations. The objective of our trainings is to entirely focus on development of your skills and to achieve the best possible results. Check us out!
DANUTA GLEJZER
Head of Training (HT) - instructor and CAA approved examiner
Her calmness, enthusiasm and professionalism will make every minute of your flight an extremely valuable experience. Head of Training, instructor and CAA examiner she actively participated in establishing of our flight training center. Throughout many years she has successfully trained number of students, who are now private pilots or work for airlines. She is consistent in her actions, patiently works on students' skills building up their confidence, which reflects in their progress. She knows how to share her passion for flying with others. She also knows what an extraordinary experience for her students the first flight might be. That's why she very often tries to capture this moment... in pictures! After the flight you may receive a photo of you behind the controls of one of our aircrafts. It is very motivational!
JACEK DZIEDZIO
Instructor and CAA approved examiner
One of the most experienced instructors and CAA approved examiners in Poland. He conducts both Private Pilot License and Commercial Pilot License trainings. Co-founder of the Pol Mack Poland Aviation center. Thanks to his passion for aviation and natural talent he can explain even the most difficult theoretical and practical aspects of aviation clearly and logically. His vast experience and enthusiasm get the most out of his student pilots on every stage of the training.
ANDRZEJ SCHUTTY
Instructor and CAA approved examiner
A pilot with vast experience, longtime instructor, CAA approved examiner and Head of Training in many big aviation centers. Calm and composed, always keeps eye on things and pays attention to flight safety procedures. He offers valuable advice and is always ready to help, which is very much appreciated by student pilots.
Opinions
Our clients about us
The newly established flying school is definitely worth recommending - professional crew and facilities of the highest quality. I visited this place and was positively surprised seeing a female pilot instructor. After a long and professional conversation I had no more doubts about signing my son up for the course. I highly recommend this flying school.

1) Individual approach do every student pilot.
2) Instructors show great patience towards all students during practical training.
3) Before the first flight instructors explain common mistakes which may occur during the practical training in the air.
4) Novice pilots can explore the beauty of flying.
5) Always smiling and helpful.

PolMack is a flying school that we have been lacking in Lower Silesia. It is a top private training center with a highly experienced crew and modern fleet.

Thanks to new Tecnam P2008 and technical facilities the training is carried out systematically without any obstacles.

What is important, thanks to cooperation with Wroclaw Airport you can undergo a VFR Night training upon completion of PPL(A) course.

Another huge advantage are the professional facilities in Krzczonów and Mirosławice, where you can get ready for the flight, have a coffee or simply relax in a friendly atmosphere... Always a pleasure to be there!

A breath of fresh air on aviation market. I highly recommend this flight school! Modern fleet, brand-new Tecnam and professional team of experienced instructors - especially Ms Danuta Glejzer.
Our Partners